Part of my methodology in working on my thesis is incorporating aspects of product design, such as the affinity diagram done in the previous post and a mood board, which will is shown in this post. Here it is: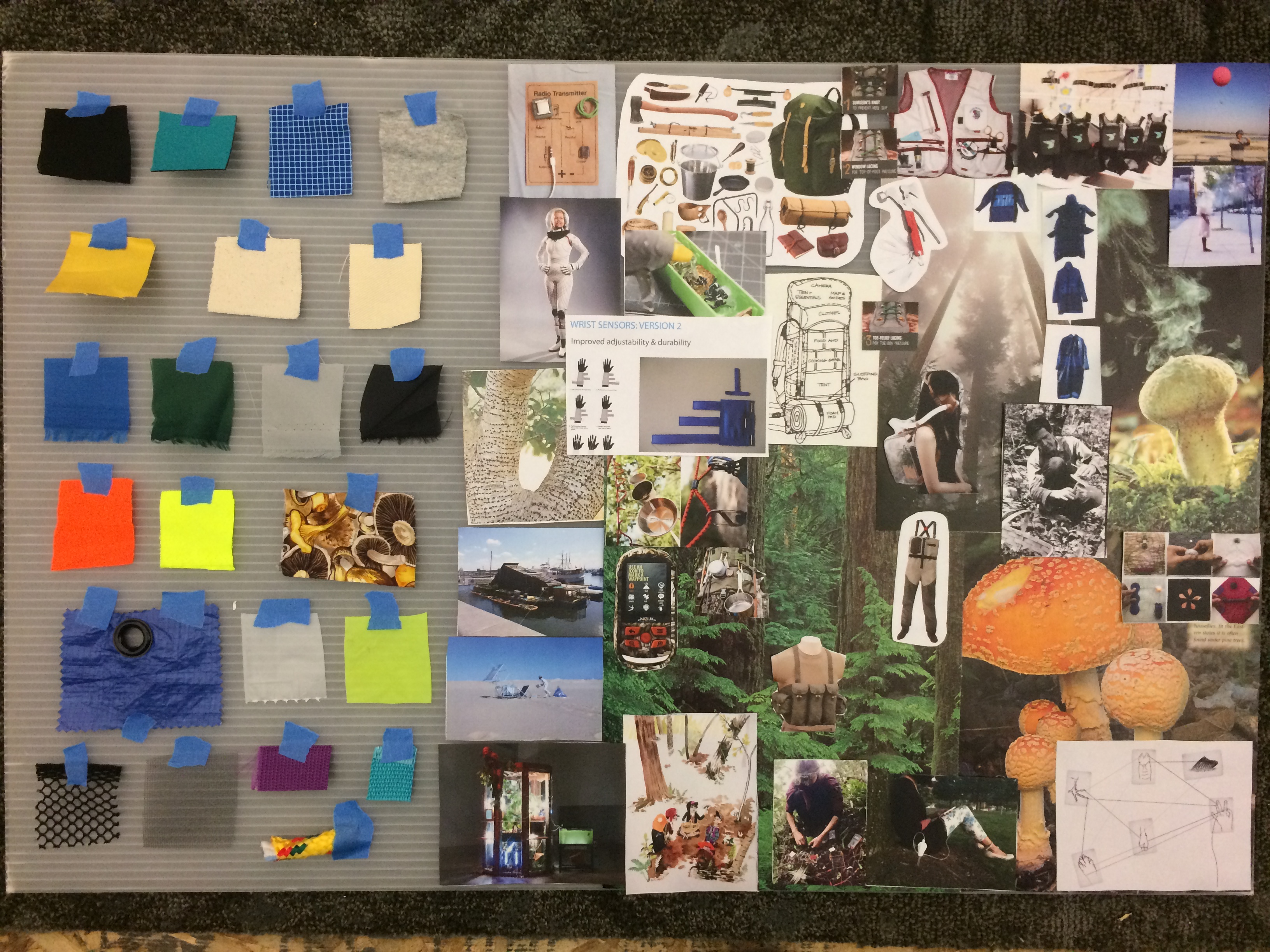 I decided to go for a physical mood board instead of a digital one (like Pinterest, tumblr, or compiling images in an image editing program) mostly because I wanted to include fabric swatches in addition to the images. This is a technique usually done in fashion / costume to communicate colors, textures and materials that will be used in the garment. Since my thesis will be a series of wearables, this was a good way of organizing some of the different materials I plan on working with. I also thought this would be a good artifact to keep in my work area while building to remind me of the visual / conceptual aesthetic of my project. Even though I constantly find images and references on a daily basis and will organize these in a folder in my computer, it was a good exercise to organize my thoughts at this point.
On the right side, I collaged printouts together that consist of projects, objects, garments, and images that are an inspiration to my project. In putting together this mood board, I was able to lay out images that I have been collecting and arrange them so that it creates an overall feel of the direction that I'm going with as I go ahead with designing and prototyping.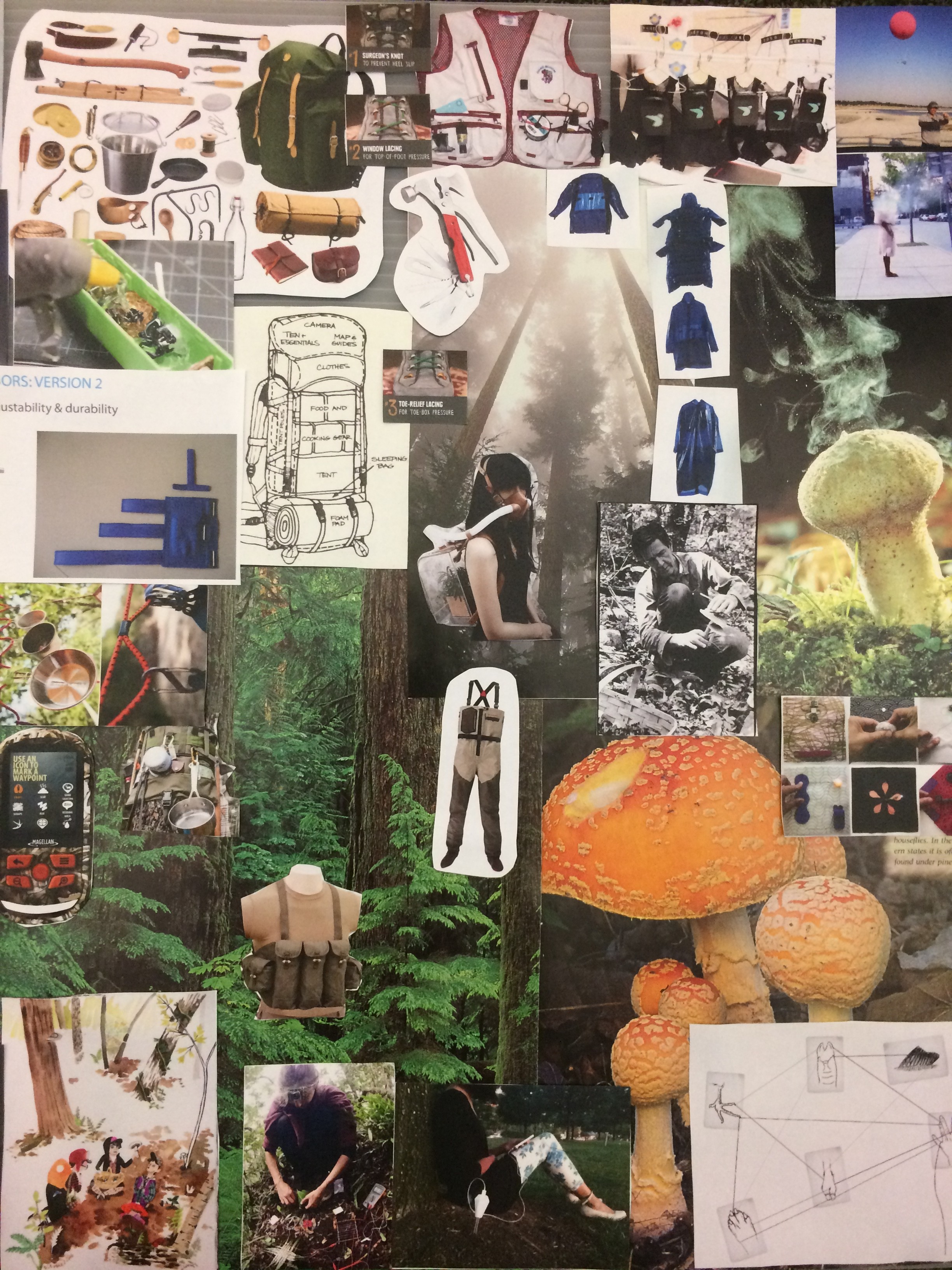 Some of the reoccurring themes in this image include camping/outdoor/military gear (fly fishing waders, vintage bandolier, multitool, etc), DIY electronics (Kobakant e-textile swatches, hot glue potting for waterproof circuits, balloon mapping from Public Laps, modifiable ergonomic gear from the Social Body Lab, etc) and fungi! duh. Also included are a number of projects, both art/design/fabrication projects that relate to my concept such as Mary Mattingly's Swale, Multispecies Cat's Cradle by Nasser Mufti, Biomodd by Angelo Vermeulen, Survival Kit for the Ever-Changing Planet by Chiu Chih, a watercolor of people mushroom hunting by Jen Cooney, Convertible Clothes by Moreno Ferrari, Bio-Suit by Dava Newman, New American Sweatshop : Training Module by Amelia Marzec, SolarSinter by Markus Kayser, Hacking the Wild with Hannah Perner-Wilson and Andy Quitmeyer, Urban Armor #7: The Social Escape Dress by Kathleen McDermott and Wildgrid by Krystal Persaud and Hirumi Nanayakkara. There is also a picture of John Cage mushroom hunting. The pictures of fungi and forests are from a nature book that I found in the lab space that I received permission to cut pages from…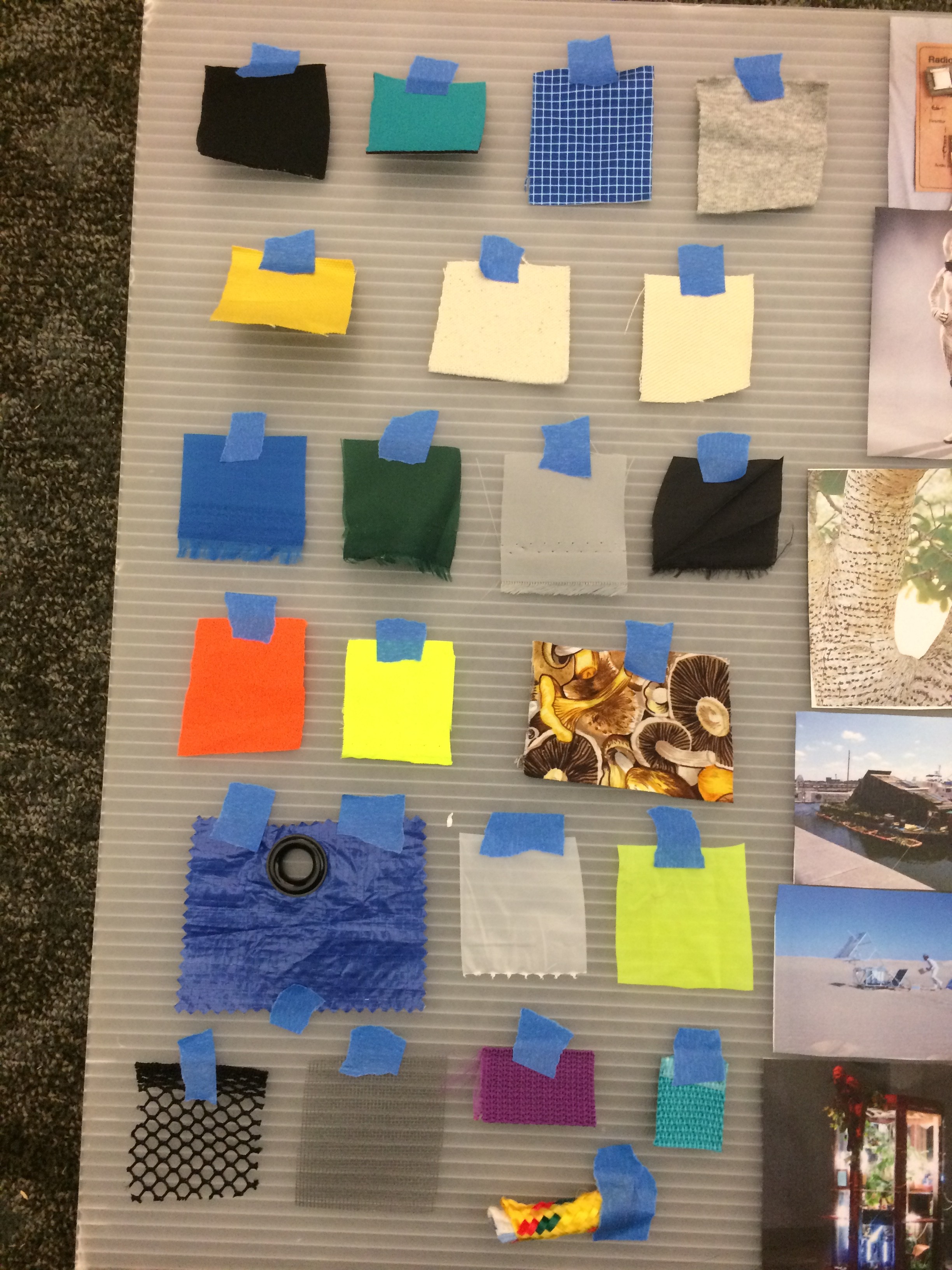 On the fabric swatch side are a range of fabrics that I had on hand that I wanted to group together to give an idea of the colors, textures and materiality of the wearables I will make. Of course there will be electronics, plastics, metal components and other materials involved, but this is still a fairly comprehensive overview.
Row 1: Here are the materials listed in rows from top to bottom, left to right:
Row 2: Black/white jersey covered neoprene; turquoise/grey jersey covered neoprene; printed spandex; cotton knit jersey
Row 3: Solid colored canvas, heavyweight natural canvas, undyed color denim
Row 4: All rip-stop nylon in various colors
Row 5: Orange woven safety fabric; neon yellow woven safety fabric; mushroom printed cotton woven fabric
Row 6: Tarp with grommet; plastic sheeting; disposable poncho material
Row 7: Mesh netting; window screen material; 1″ purple nylon strap; 1″ turquoise nylon strap; 1/2″ nylon rope