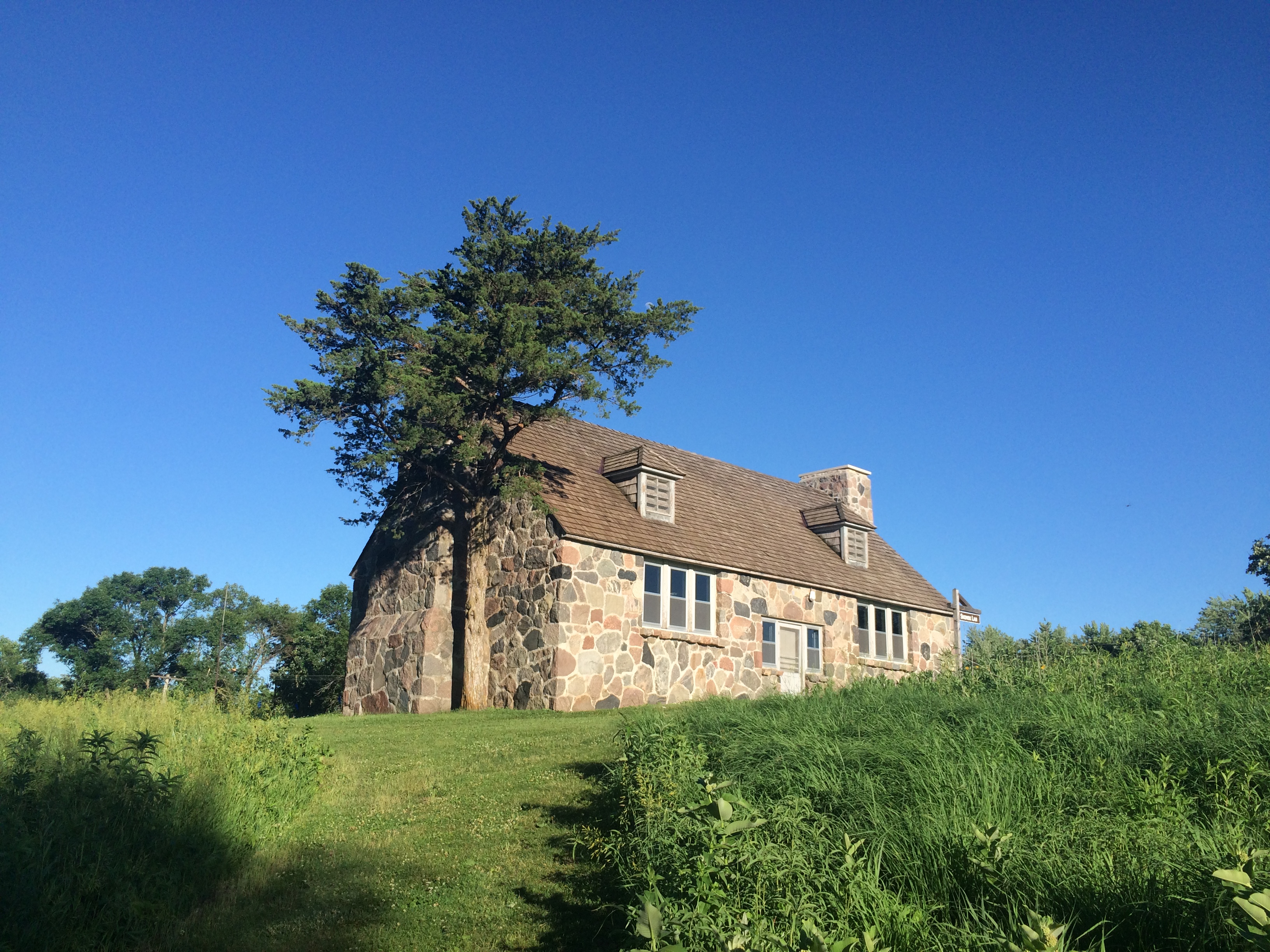 Over the summer I completed a two-week artist residency at the Iowa Lakeside Laboratory, a biological field research station located on Lake Okoboji in northwest Iowa. My goal for the residency was to do an initial inquiry into my proposed thesis area of Field Computing. This area is an interdisciplinary investigation in the fields of wearable electronics, critical making, ubiquitous computing and citizen science. I am interested in the intersections of these disciplines to make things(?) that will explore, facilitate, and intervene in relationships between human users, non human users (which include plants, animals and other organisms) and their shared environments.
During my residency, I was able to explore and develop a few ideas that I had in mind relating to this concept. Besides having the space and time to work on these projects, I also got to meet and talk to various scientists (limnologists, phycologists and ornithologists) regarding the role of citizen science and technology in their fields of study.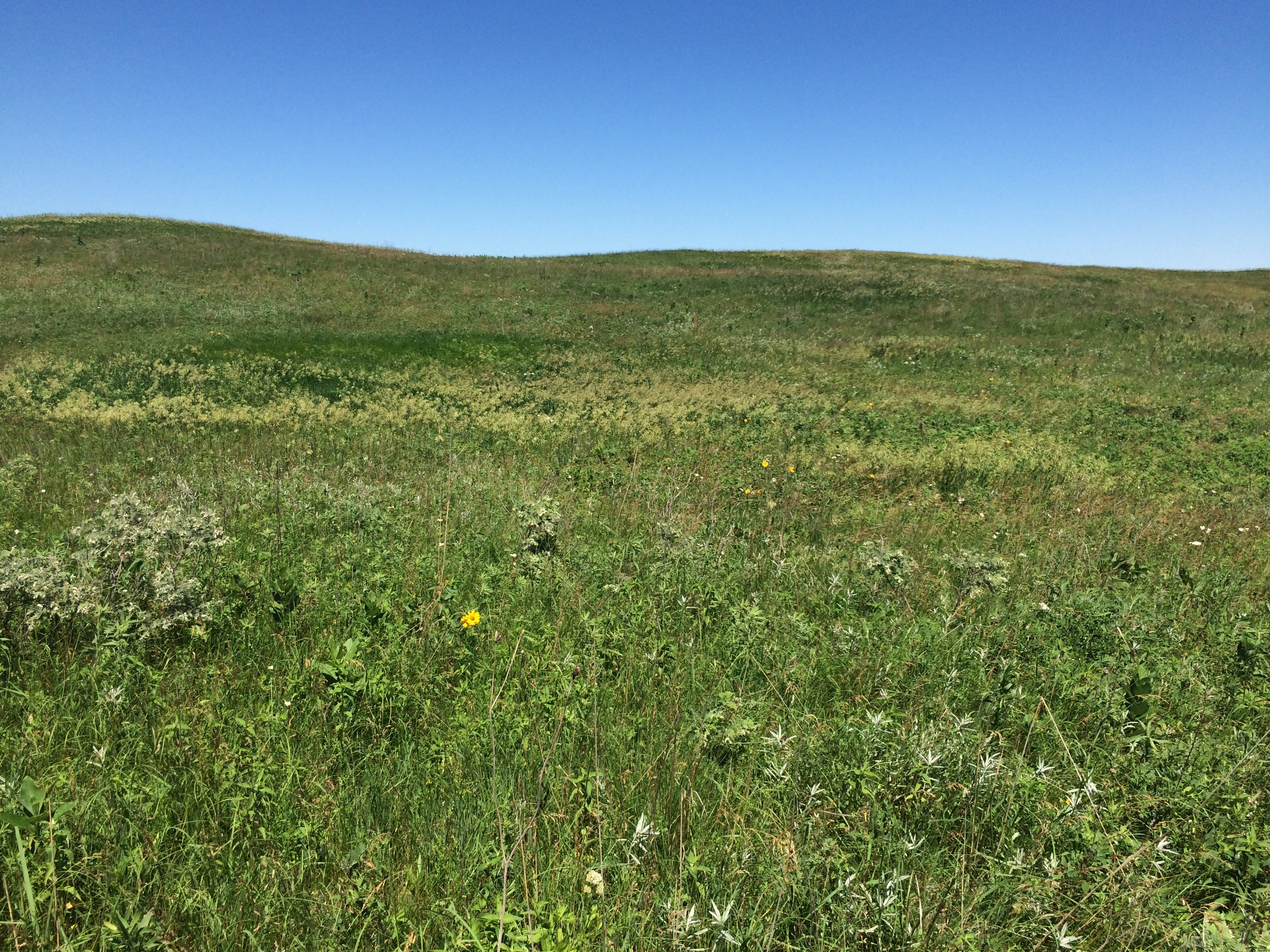 Although Lakeside focuses on limnology (the study of lakes), it is located right next to prairie land (restored and preserved). As someone who had not encountered prairie environments until that point of time, I spent a few days exploring and hiking around the Cayler Prairie Wildlife Management Area. Hiking in a prairie is like swimming in an ocean – the grass/plants is relatively the same height as you wade through and the topography rolls in waves. Although it looks subtle, there's actually a diverse variety of landscapes in a relatively small area.
During these initial hikes, I was curious as to how somebody would build things in this environment, in a similar vein as Hannah Perner-Wilson and Andy Quitmeyer's Wearable Studio Practice project. While taking some observation notes, I dropped a pencil and lost it immediately in the tall grass. Without any trees or open areas, it would be difficult to construct any makeshift platform or stands. With this in mind, I prototyped a wearable desk (Portable Workspace) that allows a work space to fold out as needed, with pockets for various tools. This would be attached to the front of the body using a harness worn by the user.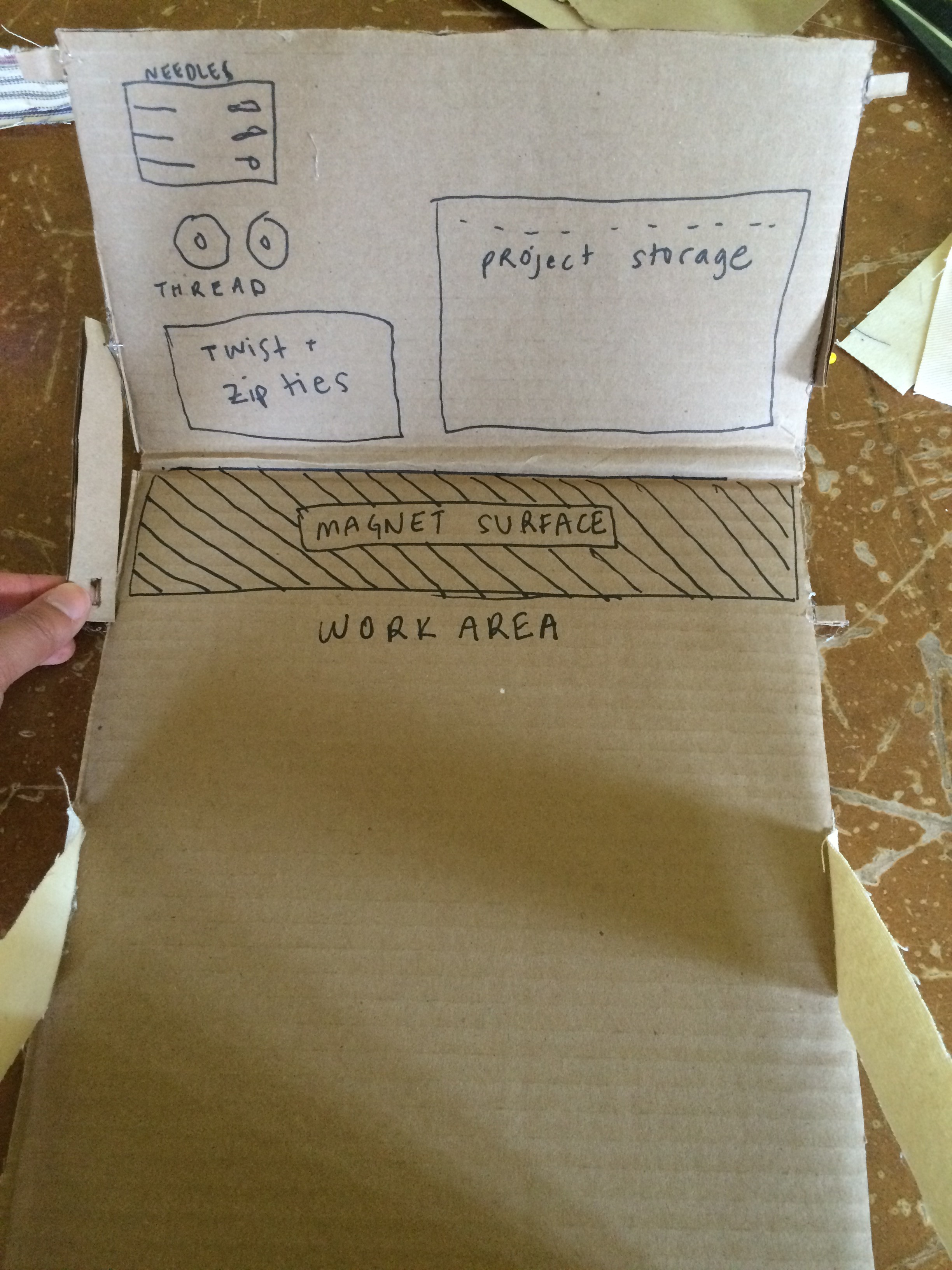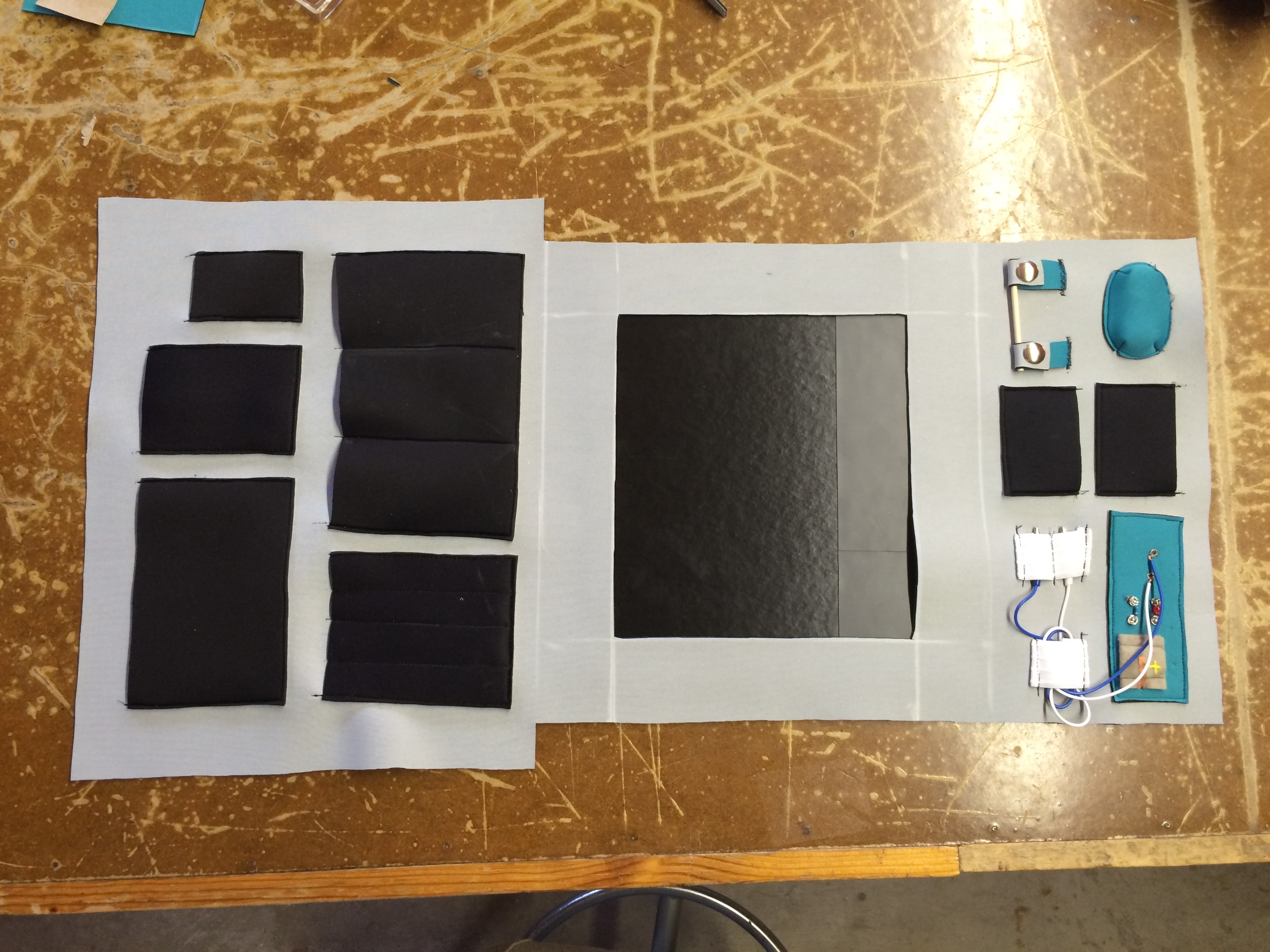 From there, I built a more refined version using neoprene. Neoprene is an interesting material to work with – it's fairly durable (the fabric I used here is backed with jersey fabric on each side) and doesn't require any hemming since it doesn't fray. However, it is tricky to sew since it can be quite slippery with the jersey covering and the slight stretch makes it a little difficult to cut straight lines and feed through a sewing machine. For the workspace of the desk (the middle segment), I needed a rigid material so that you can place things on this surface without any sagging. I wound up cutting up a binder to use as the surface and placed a magnetic strip so that it could hold any small electronic parts. Because it sits below the surface of the neoprene, there's a "wall" around this area that prevents objects in this area from rolling off.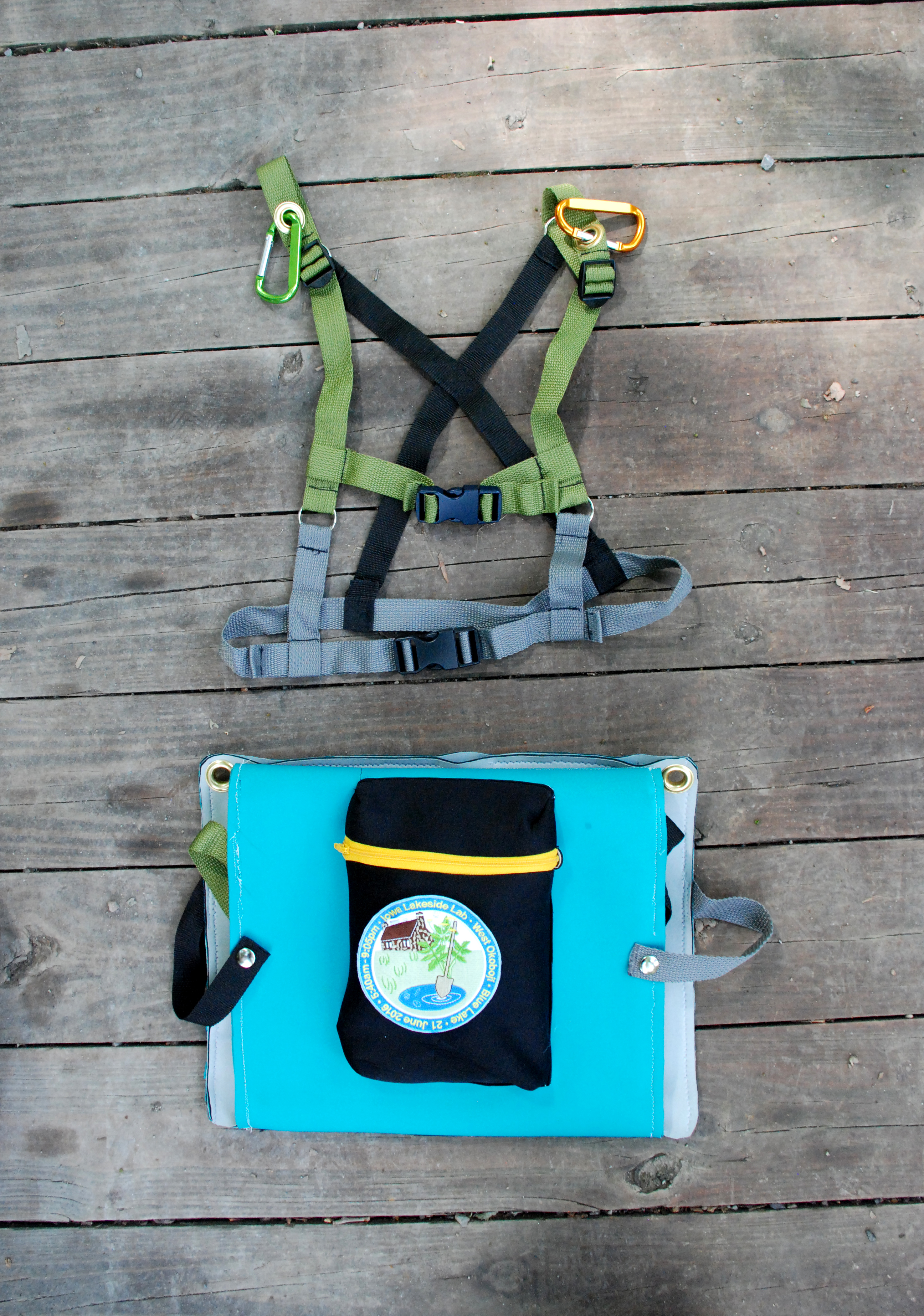 The completed Portable Workspace prototype! The harness is made out of nylon straps, with carabiners that attach to the grommets on the pack so that it can be worn across the chest. The patch on the front of the pack is from a performance done by Joseph Mougel and designed by Cynthia Brinich-Langlois, two of the other artists-in-residence at Lakeside Lab.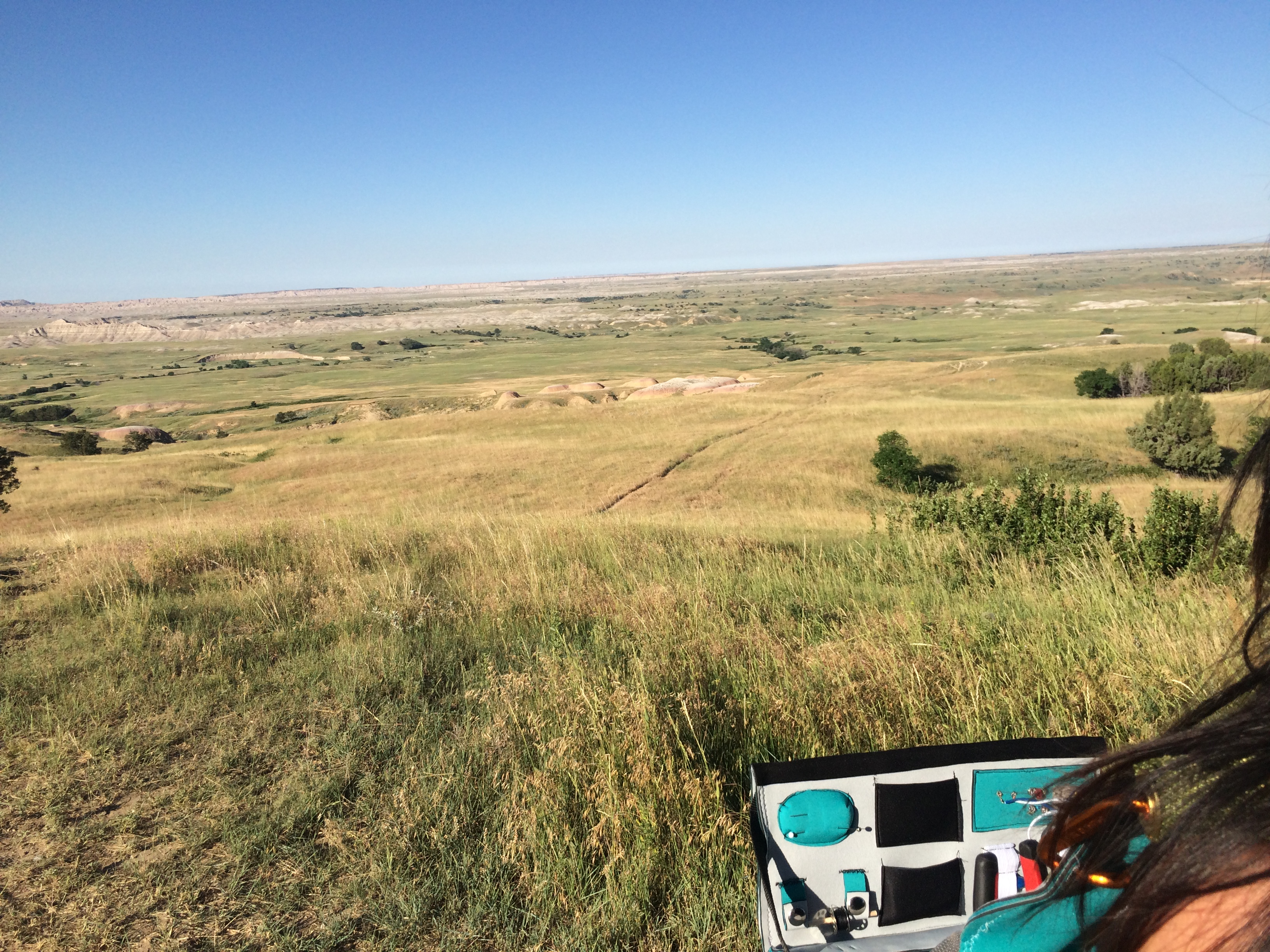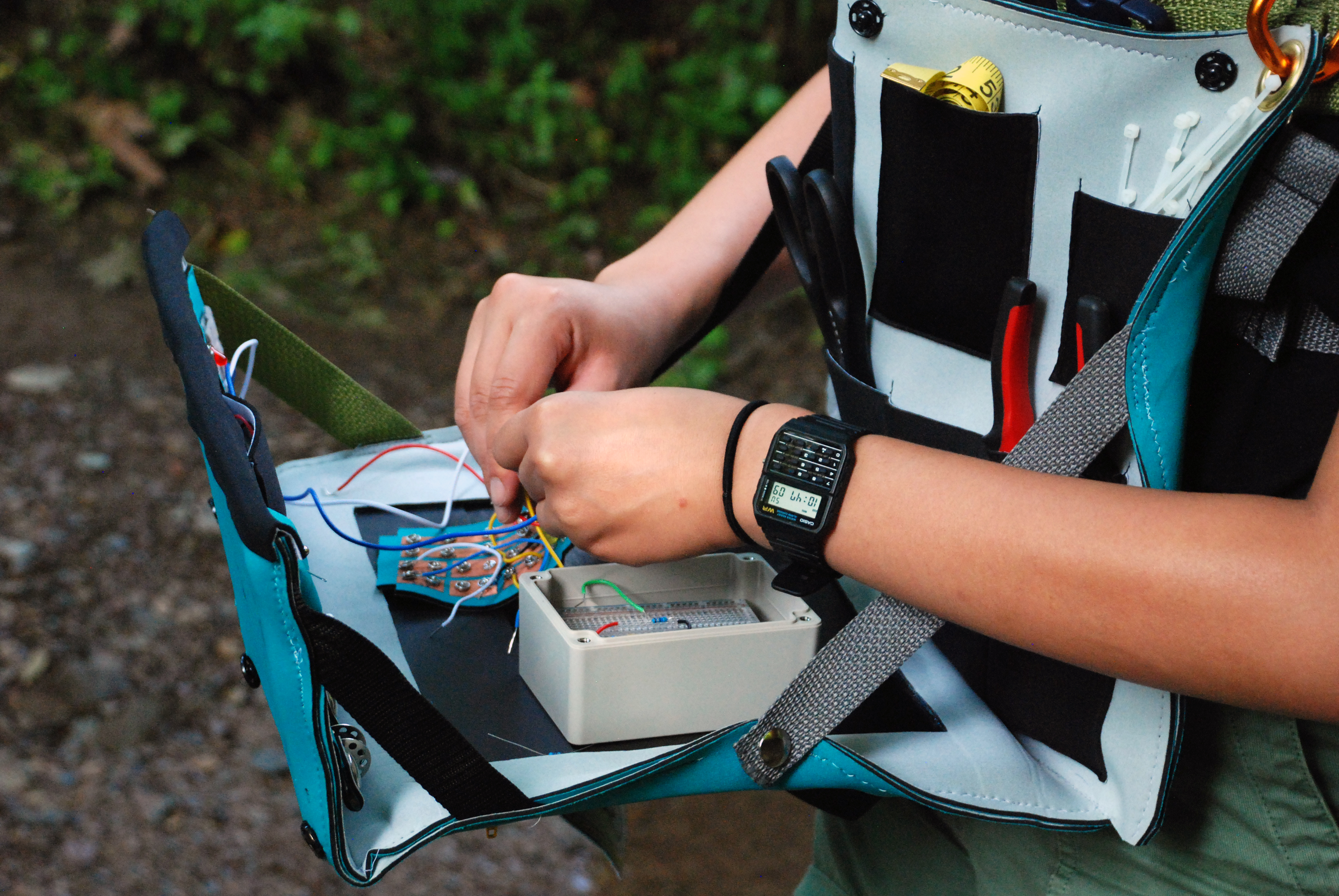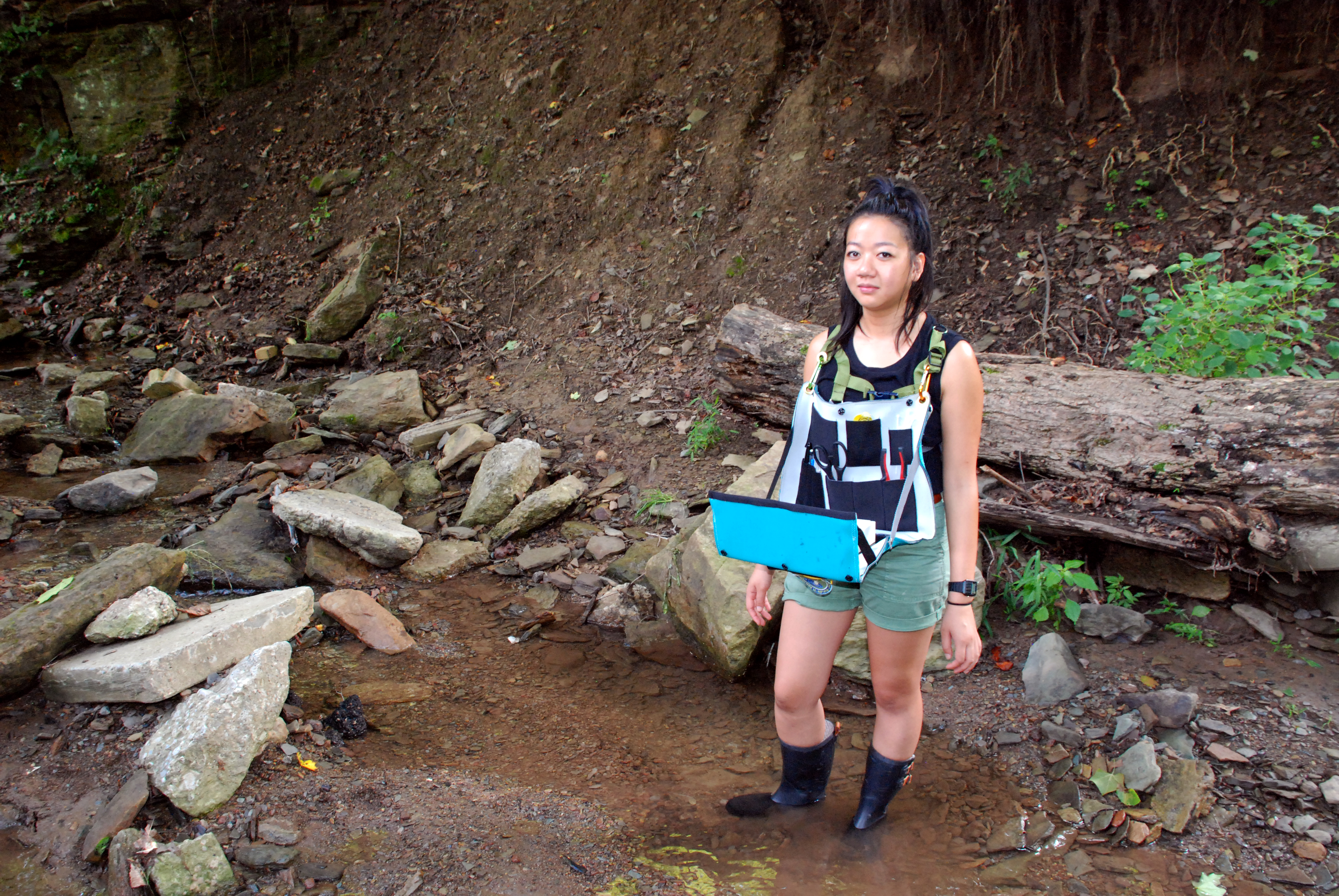 Here are some shots of the pack in some different locations. Up top is from the Badlands National Park in South Dakota. And the bottom two are from Camp Guyasuta in Sharpsburg, PA. Although this project was designed based on the context of the Iowan prairie, it can be potentially used in multiple contexts. With this pack, it is an interesting initial inquiry into how we can change sites of production for technology as it relates to wearable technology, citizen science and environmental monitoring.